Hey y'all forgive me in not posting in over a month. I'm been really busy with my local theater, school, vacation, etc.
Anyways, I'm back
.
And school's out. So hopefully I'll be able to post alot more.
So I'm officially a highschool student. And personally it's kind of scary. Because you have to start thinking about your future, college, a job, a car, etc. My mind gets filled with questions.  What if I don't get enough schooling? What do I need to take to get into college? Will I go to college? What for? What job should I get? Will I get a car? What will I be? What will I become?
It's like an emotional rollercoaster.
I've always been a planner. I plan what I'll do today, tomorrow, in ten years, twenty, etc. So when I really can't plan my future life it's nerve racking. I don't know what I'll do and I don't know what I'll become.
But the amazing thing is I'm not in charge of my future. I'm not in charge of who I'll become. I make decisions that can either help or hurt these things but in the end God controls my future. And it's in way better hands that way.
We just need to trust Jesus with our future and our lives. He knows the plans he has for us. Plans that are good and will make us prosper. And they will give us hope and a future.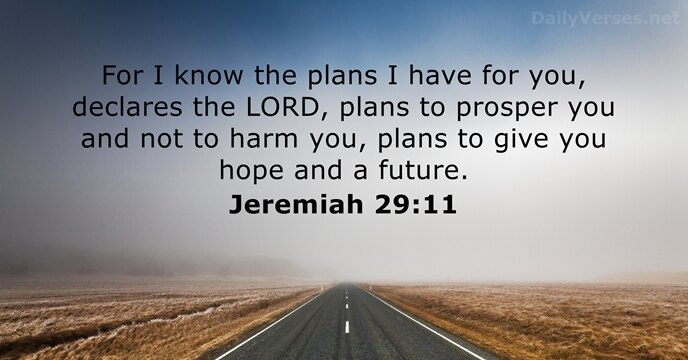 And the thing is, my future isn't unknown to God. He knows it all. Even though I know nothing of it.
God is already there. He knows it and he has it in his hands. And I'm gonna let him take care of it.
And trust him to do what's best for me. Because I know he will.